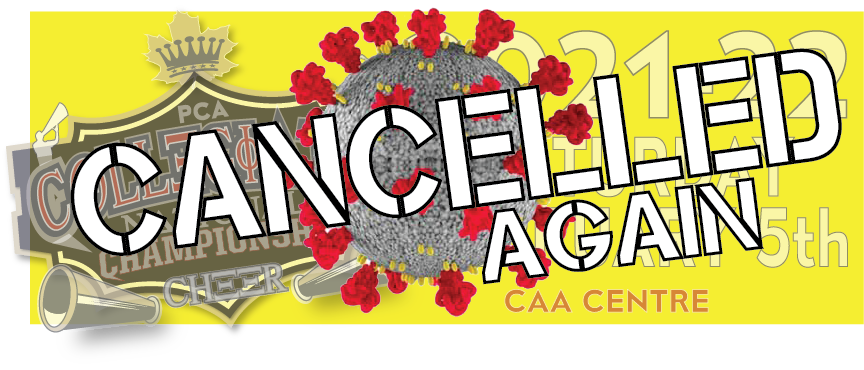 We are very, very disappointed to have to cancel the event for the second time.
Too many schools are being delayed in their return to class, campus and training and although we are not specifically recognized under U-Sport, most teams are required to follow their respective school teams guidelines re pausing their season.
All registration fees will be fully refunded.
Thank you to all of the teams that continue to support this event. Let's aim for getting back in the fall.
ONE DAY FORMAT - All Teams - TWO RUNS
| GENERAL Schedule of Competition | Performance Order | Final Results (pdf) post event |
ESTIMATED TIME: Doors open at 10:00am. Competition starts: 12:00 noon. Ends 5:30pm approx
| Registration Form & Entry Fees | Eligibility/Team List SCHOOLS | Eligibility/Team List CLUBS | Credit Card Payment Form |
| Score Sheet | CAA Centre Information (Tickets at door: Adults $18, Teens/Srs: $12, Under 5 Free) | Warm Up areas and Arena Set up Diagram |
| Rules | After Party/Covid TBA | 2018 PCA ACEtv Promo Video | 2017 ACEtv Promo Vid | 2016 ACEtv Promo Vid | Event Tee Shirts Team ORDER FORM - Pre-Orders Only | Tee Print Colours |
Power Cheerleading Athletics
5369 Grand Canyon Rd • Port Stanley, On. N5L 1J1
519 • 902 • 1270 • nationals@powercheerleading.com